This blog was originally published on the 3 January 2023 on taniarussell.co.uk. Tania is a global award-winning luxury wedding planner, based in West Sussex and London. 
For more information on the humanist wedding ceremonies I can provide, please visit my Humanists UK webpage.
When it comes to same-sex marriage, we've come a long way. To think that within many people's living memory in this country it was still illegal for two men to have sex, it's remarkable that same-sex civil partnerships and marriages have become an accepted and celebrated part of our social fabric over the past two decades.
I still remember, as a queer 18-year-old who had been badly bullied at school, how amazed I was hearing about the introduction of civil partnerships back in 2005, and about Elton John and David Furnish getting married in such a ceremony in December that year. At a time when I was just entering my adult life, it gave me a great sense of hope for my future; to this day I feel a huge debt of gratitude to the tireless campaigning of LGBTQ+ activists over the years to achieve this progress.
However, whilst through the Same Sex Marriage Act (2013) we gained full marriage equality in the eyes of the law, we still face a number of challenges that non-LGBTQ+ people do not. Like me, many LGBTQ+ people were also subjected to bullying at school, which back in the 1990s and 2000s was made even worse by the stigma attached to any discussion of LGBTQ+ issues in an educational setting caused by Section 28. For many of us, this has impacted on the way we see ourselves and the world, well into our adult lives.
Meanwhile, hate crimes motivated by homophobia and transphobia continue to represent a real threat to our safety as we go about the world. Whilst more broadly, according to Stonewall LGBTQ+ people are more likely to experience poor mental health, experience challenges when trying to access healthcare, and face discrimination both at work and when finding a job.
Against this back-drop – in a world where we experience such inequality – how can LGBTQ+ people ensure that their wedding day is a true celebration of themselves, on their own terms? This is where I believe humanist celebrants can play a hugely important role.
The Humanist movement, with its focus on reason and empathy, boasts an impressive curriculum vitae when it comes to welcoming, celebrating, and fighting for LGBTQ+ people. Indeed, humanists have been celebrating same-sex wedding and commitment ceremonies long before they were legally recognised!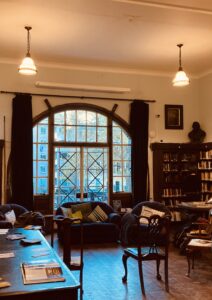 The other month, I visited Conway Hall – owned and operated by the Conway Ethical Society. At a really inspiring talk held there as part of their Being Human festival in the Hall's library (pictured – which incidentally, is available for humanist wedding ceremonies!) I learnt about the Free Love movement that questioned Victorian dogma and attitudes on sexuality and love from the 19th century onwards.
More recently meanwhile, LGBT Humanists UK was founded in 1979 in response to the Gay Times blasphemy trial. Since then, they have campaigned for equalising the age of consent, for marriage equality and the banning of conversion therapies.
Following in this tradition, as a humanist celebrant I am committed to working with LGBTQ+ couples to ensure that the ceremonies we create together celebrate the love they share in a way that feels fully authentic. Marriage is an institution so rooted in heteronormativity (and patriarchy – but that's a blog for another day!) I think it can be difficult sometimes for us LGBTQ+ people to know how to make a wedding our own; but I am committed to working with couples to rewrite – and hell, why not – tear up the rulebook together!
You don't want just one person to walk down the aisle, in the traditional 'bridal' role? Let's choreograph your ceremony in a way that feels right for you! Want to ensure that your correct pronouns are used throughout the ceremony? Being non-binary myself, I will ensure that all the language I use is absolutely right for my couples. You should expect nothing less on your Big Day, after all.
Because at the end of the day, what the cold, hard law says is important, but a wedding – a celebration of two lives joining together – is so much about what we feel and experience on the day. As a celebrant, I am determined to ensure that in a world where we sometimes are made to feel 'less than', LGBTQ+ couples feel that their wedding day is a true celebration and reflection of their love, on their terms. That to me, is true marriage equality.